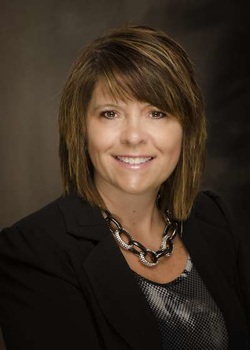 Cindy McGinnis
Email: cindy@millerfarrell.com
Phone: (402) 209-0531
I was born and raised in Nebraska City and graduated from Nebraska City High School. I started my career in the banking industry, working in the lending department. I took some time off from the business world to stay home with my first son. I was always intrigued with real estate and spent some time investigating a career in it. The opportunity to become the office manager/closer at Home Real Estate opened up, so I got my real estate license in 1996 and rejoined the business world.

My husband and I live southwest of Nebraska City, where we own and operate McGinnis Family Farms. Our oldest son Derek, farms full time with my husband and our youngest son Kylan, is attending the University of Nebraska in Lincoln and plans to join the family business when he graduates. In my spare time, I enjoy traveling, boating, exercising and spending time with our family, friends and dog, Razzi. I feel that it is important to give back o our community, as it has provided a wonderful life for me and my family. I have done this by volunteering at Lourdes Central Catholic School, where I held several offices in the Home and School Association, Lourdes Activities Association and I have been the President of the Lourdes School Board since 2007. I also volunteer through our church, St. Mary's Catholic Church as a past Youth Group Leader and currently as a Reader and Usher. I am a board member for the Southeast Nebraska United Way and I am the committee chairman for the Giving Tree at Christmas for Home Real Estate, St. Mary's Catholic Church and St. Benedict's Catholic Church.

I am a licensed Realtor in the state of Nebraska. I specialize in the purchase and sale of single family residential, commercial and income properties and represent my clients with respect and integrity. As the office manager and closer at Home Real Estate, I have been a part of almost every transaction that has gone through our office since 1996. This has given me firsthand knowledge of real estate transactions, and I use this knowledge to make the buying or selling process as easy as possible for my clients. My experience with lending has allowed me to assist my clients with their loan process from start to finish. I truly enjoy being a Realtor…where else can you get paid for making other peoples' dreams come true?