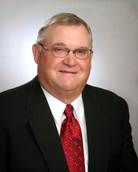 David Guhde
Email: daveg@millerfarrell.com
Phone: (402) 874-0781
Dave is a lifelong resident of Otoe and Nemaha counties, born in Nebraska City and graduated from NCHS.
For over 45 years, Dave and his wife Deana have worked together as a team, in advertising, promotion and sales of purebred swine and cattle genetics. For the past 15 years they have become involved in Real Estate Sales selling business properties, land and residential Real Estate. They have a daughter Jenny, who is married to Nate Studer and a grandson Brock who is a 5th generation farmer.